It's a sad truth, but people go to great lengths to sneak their dogs into hotels. People sneak in pets if the hotel is not pet-friendly or to avoid pet stay charges. Some will stuff a small dog into a big purse, put their dog in a baby stroller, or pretend that their dog is a service animal or emotional support animal.
If you sneak a dog into a hotel expect that sooner or later, you'll be caught. You will then have to pay extra fees and face being kicked out. The hotel will likely charge penalties on top of normal room charges. The hotel may cancel your stay and kick you out. 
Some hotel policies don't allow pets within their premises. Others charge way more than some clients are willing to pay. Read on for some of the repercussions of sneaking a dog in when trying to circumvent hotel policies. 
How Much Extra Do Hotels Charge for Pets?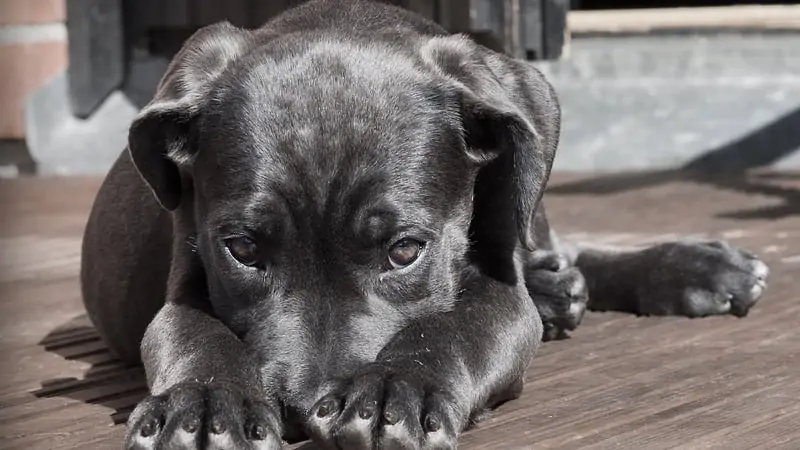 The hotel industry is moving toward pet-friendly trends, with most big chains offering free pet stays. However, there are still many hotels either charging high fees for pets or disallowing pets completely. Even when the hotel offers free pet stays, you'll still have to declare your pet and likely have to sign a guest pet agreement on check-in. 
How the hotel charges for pets depends on type of hotel, their policy on pets, class ratings, and location. Let us consider some of the charges to expect, depending on hotel pet policies. 
Pet-Friendly Hotels
The best hotels when traveling with your dog are those that operate on pet-friendly policies. Such hotels offer free accommodation for their canine guests. IHG hotels and Kimpton Hotels are examples of dog-friendly chains which charge no fees. At dog-friendly hotels, your dog will most likely receive pet-friendly treatment such as:
Being served top brand dog food.
Regular offers of nutritious treats (in one hotel, all staff walk around with a small waist-bag full of treats).
Fresh drinking water is regularly refilled. 
In-house dog experts such as qualified trainers and veterinarians. 
Dog-centric events such as scenic tours and Yappy Hours. 
Dog parks and pet sensory gardens within or close to the property.
Dog carers such as pet sitters and dog walkers to exercise and look after your dog when you can't.
Dog spa facilities such as bathing, grooming, and massages. 
Dog rooms where they can interact with other dogs or watch dog TV. 
Dog pools where dogs can enjoy time in the water. 
In the case of a pet-friendly hotel, it would be foolhardy to try and sneak in your pet. All the costs are covered in your regular room charge or you only have to pay a little bit extra. Not declaring your dog would be irresponsible and even dangerous to your dog, staff, and other guests. 
Some charges at pet-friendly hotels include:
Per stay charges ranging from $20 to $100 which caters for cleaning and disinfecting of your room upon checkout. 
Damage deposit of up to $250 refundable if your pet doesn't cause any damage. 
Event fees which may be as little as $5 for Yappy Hour or over $100 for dog trips. 
Pet-Tolerant Hotels
Pet-tolerant hotels are those accommodations which will accept guests who check in with dogs but the hotel will do very little to cater for the dog's needs. For example, the hotel may lack dog-centric amenities such as:
Feeding bowls and water bowls.
Dog beds and blankets. 
Dog crates for guests who couldn't bring along one. 
Staff to take care of dogs, such as sitters and dog walkers. 
Areas for dog activities such as dog pools, dog parks, and sensory gardens. 
Leashes and collars in the hotel shops. 
Treats and dog food at the shop. 
Pet-tolerant hotels often have hefty fees for pet guests. The charges for checking in with your dog may include:
Dog stay per dog per day. This ranges from $10 to more than $100. 
Damage deposit ranging from $80 to $250. The deposit is often only partially refundable but may be either fully refundable and non-refundable. 
Charges for dog products. These are itemized charges for things like dog food, treats, blankets, bowls, water, and chew toys. 
Dog services fees. These include service fees for dog walking, pet sitting, and cleaning after the dog outside the booked room. 
Dog Intolerant Hotels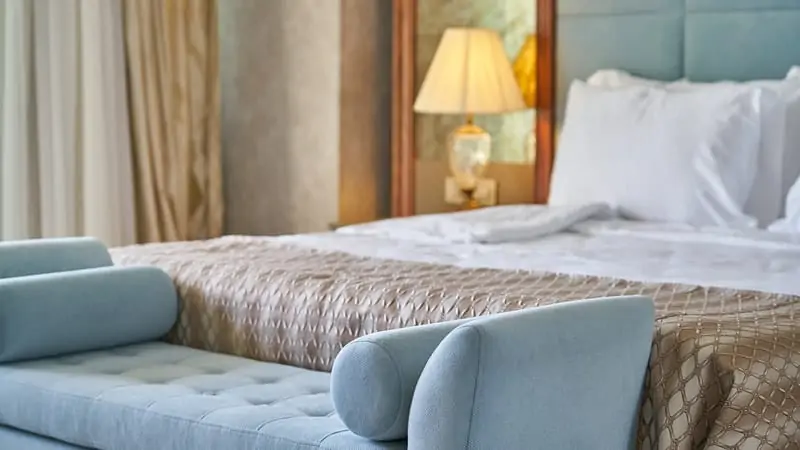 Some hotel policies completely disallow having dog guests. Such hotels will have no dog-centric amenities, specialized staff such as handlers and vets, or dog parks and pools. Such hotels will not have accommodations suitable for hosting dogs and their prices won't reflect anything about dogs. 
However, if you have a service dog or emotional support animal, the hotel may be legally required to accommodate you. If they choose to charge for the service dog, it will likely be a flat fee per stay to cater for special cleaning and disinfecting of the room in case a future guest is allergic. The flat fee for service dogs ranges from free to anything between $20 and $300. 
What Happens If You Sneak a Dog into A Hotel?
If you sneak a dog into any hotel, even the pet-friendly ones, it will be considered a violation of policy. First, management will have the right to kick you out of the room, cancel your stay, and kick you out of the premises. 
Secondly, the hotel management will have the right to charge you for any damages. These may include:
Cleaning Fee
This applies to your room, whether the dog caused a mess or not. Hotels have to take extra precautions when animals stay in a room. 
Extra Cleanup Fee
This applies to places your dog may have visited or even delivered waste on. Your dog may have peed in the elevator, pooped along the corridors, etc. 
Disturbance Fees
If your dog was barking, howling, yelping, scratching at doors and walls, or chased after humans and other animals the hotel may charge you a fee or sue you for damages. More so if the disturbance caused other guests to either cancel their stay or request a change of room. 
Do You Have to Pay Penalties If They Caught You and Your Pet?
If you're caught with an undeclared pet, you may be legally liable for costs and damages. As this is a violation of hotel policy, you may be required to settle your bill immediately, including penalties, and check out there and then. 
You have to pay the penalties or you may face legal action. You may contest any penalties you feel are unfair, though sometimes the cost of contesting could be higher than the penalty itself.