So you have booked a trip to Amtrak to see your family over the weekend and you decide to bring your dog to accompany you. But then you suddenly remember Amtrak's pet policy, which includes a weight limit. And you are worried that your dog may just exceed that limit. So, now you are wondering, will Amtrak check the weight of your dog before boarding? 
Typically, Amtrak will not weigh your dog nor will they measure the dimensions of the carrier with measuring instruments before boarding their train. The same applies to other types of pets. So, if your dog can get past their visual inspection, it should be fine to board the train. 
In this article, we are going to be looking at the policies Amtrak has set into place for taking pets on their train. We look at the various restrictions and stipulations a passenger has to follow to travel safely with their pet.  
Hopefully, with the insight you gain from this article, you can properly prepare yourself the next time you plan to tour with your best friend in the company. 
What is Amtrak Pet Policy? 
Amtrak has allowed service animals to travel on their trains for a long time. But since 2015, they have granted that same permission to regular pets as well. Of course, with such allowances, they have also mandated some rules and regulations for the pets that will get on. So, let's go over some of the more prominent policies. 
Before you even get on the train, you need to sign a pet release form for each travel segment. You need to check in at the ticket counter to complete the necessary paperwork before you get on the train. At any point of the trip, you may be asked to show this form. So, keep this paper with you during the journey. 
Amtrak only allows pets to travel with you if the combined weight of your pet and its designated carrier is 20 lbs. or less. And you can bring such a pet only on trips that are 7 hours or less in length. If the trip is any longer, then you sadly cannot bring your pet along. 
Along with the weight limit, there is also a maximum measurement for the carrier you bring along. The carrier cannot exceed 19" in length, 14" in width, or 10.5" in height. And for the entire duration of your travel, your dog has to remain inside its carrier. So, make sure there are sufficient absorbent pads for when your dog needs to do its business. 
A single passenger can bring a single pet. And the total number of pets aboard a single Amtrak train at a time cannot be more than 5. This is why you need to make early reservations as the number of pets allowed is extremely limiting. 
While onboard, you cannot bring your pet dog or any other animals to the sleeping cars, non-Acela coaches, and food cars. You also cannot bring a pet to the first-class coaches.  
The behavior of your pet is something you need to be mindful of. Your pet should not create too much disruption to the other passengers. If your pet is found violating the peace and quiet of the trip, Amtrak officials can ask you to disembark with your pet at the next station. 
Of course, service dogs and other such animals are exempt from a lot of these restrictions. For example, service animals do not count toward the 5 dogs per train limit nor do they have to be within 20 lbs. And you can keep your service animal without restraints if putting such restrictions interferes with the animal's task. 
You can even bring service animals to every Amtrak service car, including food cars and sleeping coaches. But you do have to keep your service pet under your supervision at all times. You must ensure that your pet is not creating too much of a nuisance to your fellow passengers. 
Additionally, you can take your service animals for a short walk at a train stop, which you cannot do with a regular pet. But make sure you are within reasonable proximity to the train so that you can swiftly get back to your seat. 

Do They Weigh Dogs on Amtrak?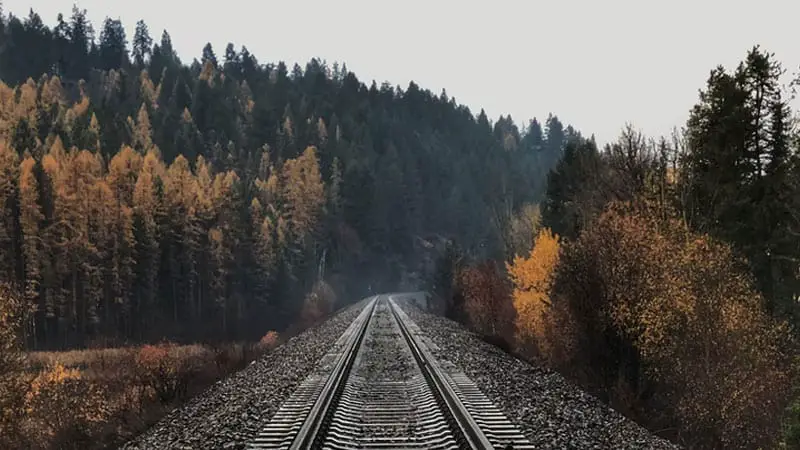 Despite their official weight limit, Amtrak does not have physical scales in stations to verify the weight of your pet. They also do not measure the specific dimensions of your carrier, which also has a maximum allowance. 
What they will do is a visual inspection. So, if your dog and its cage do not deviate from the mandated limit by too much, the officials will most likely not flag it as a violation. The most they will do is hold the carrier themselves to gauge the collective weight. 
The officials will check to make sure that your pet is locked within its carrier unless it is a service animal. Plus, they will check to see if you have the pet release form. 

How Strict is Amtrak with Pets? 
 For the most part, Amtrak is not super strict with its policies regarding pets. They are quite flexible with these rules, which makes using their service very pleasing for pet owners. 
Now, if you try to stretch their rules too much, you are risking yourself a traveling ban. And there are some stipulations you cannot get around. For instance, you cannot book a trip longer than 7 hours for a pet. And you will not be able to bring your dog to any of the restricted coaches for pets. 
 So as long as your pet remains well behaved during the trip and you are not exploiting their leniency too much, you should be safe to travel with pets on an Amtrak train. 
Conclusion 
Though their policies may appear very restrictive, traveling with pets on Amtrak is a more relaxed and enjoyable experience than one might initially hope.