If you have traveled with a pet by plane, you are probably aware of all of the regulations that have to be obeyed during the whole trip. However, when it comes to traveling with an emotional support dog, there are some different rules since these pets serve a certain purpose, and they cannot be separated from their owner. But, can an emotional support dog sit on your lap while you are on a flight?
An emotional support dog can sit on the owner's lap during a flight as long as they are no larger than a child under the age of two. However, if the emotional support dog is larger than that, it would be mandatory to place the dog in a carrier on the floor under the seat in front of the owner.
Planning to travel with your emotional support dog requires that you are familiarized with the regulation given by the airline with which you intend to travel. This article is concerned with the ways in which you are allowed to travel with an emotional support animal on a plane, including all the rules that need to be obeyed. Here, you will read detailed information on what to expect when you want to travel with an emotional support dog. 
How Do You Travel With An Emotional Support Dog? 
If you intend to travel with an emotional support dog, you firstly need to familiarize yourself with all the rules and requirements given by your airline. Although emotional support pets are usually allowed everywhere because they serve a particular purpose, different airlines have different regulations, so it is wise to be prepared for every step along the way. In the past, all emotional support animals have had the right to travel on planes with their owners, however, from December 2020, the US Department of Transportation has announced some different rules. 
According to the new rules, emotional support animals can be rejected from flights if they do not meet the requirements given by particular airlines. Therefore, while in the past all emotional support animals could freely fly with their owners, now you have to double-check the rules before you set off to the airport. Nowadays, the general rule for emotional support animals is the same as the ones referred to as regular animals.
This means that the pet fee needs to be paid, and only smaller pets can fly in the cabin with the owner. If your emotional support animal is not the right size to fly in the cabin, you will have to check your dog in the luggage area. Also, even if they are the right size to fly in the cabin, your emotional support dog will still have to stay in a carrier under the seat in front of you. 
However, psychiatric dogs do not belong to this group, meaning that they are still allowed on planes. This means that they can board the plane for free even if they are not the size intended for cabin flying. Psychiatric dogs are trained to perform tasks for their owners who are struggling with mental or emotional disabilities, therefore, they cannot go on a flight without them. 
Many people take psychiatric and emotional support dogs as one and the same, however, the former can perform tasks that can help the owner overcome different situations. This means that the owners cannot be without the assistance of their psychiatric pets, therefore, they need to be in their constant presence. That is why airlines cannot deny their flying on the plane. 
Can Emotional Support Dogs Fly On Your Lap?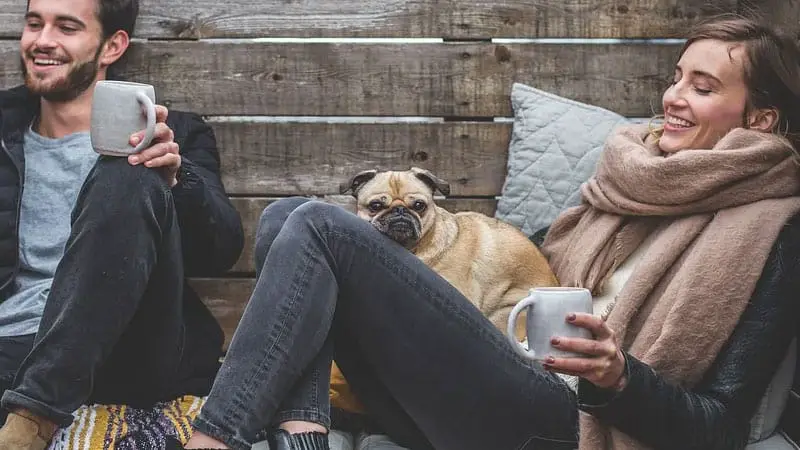 As mentioned above, emotional support dogs are treated the same way as regular pets when it comes to flying, meaning that they will be treated according to the regulations given for all pets. This means that your emotional support dog needs to be the approved size in order to travel in the cabin, and they have to be inside the carrier the whole time. Also, owners are required to pay a certain fee, although they are traveling with a dog that provides emotional support. 
However, some airlines have different rules about emotional support dogs, meaning that some might allow your emotional support dog to sit on your lap during the flight. This is usually possible by some airlines if the dog is the same size as a child under the age of two. Also, you have to take into consideration that if your emotional support dog is seated in your lap, they cannot touch other passengers, and they need to be clean and well-behaved. 
Otherwise, you will need to put your emotional support dog inside a carrier and place it under the seat in front of you. In other words, your emotional support pet will be treated in the same way as any other regular pet during the flight. 
Can An Airline Deny An Emotional Support Dog? 
In the past, it was possible to travel with your emotional support dog wherever you want, and usually, owners had the chance to always place their emotional support animals next to them or in their laps. However, from December 2020, the rules have changed, meaning that all emotional support pets need to be treated as all other regular pets.
Therefore, if your emotional support dog does not comply with the regulations given by the airline, the airline has the right to deny the dog on the flight. For instance, if your dog is larger than the permitted size for flying in the cabin, then you will be forced to check your dog in the luggage area. As of December 2020, airlines have the right to not accept animals on the plane if they do not comply with their rules. 
As you could see, you can fly with your emotional support animal as long as their size is in accordance with the airline's regulations. However, some airlines have different rules, so they might even allow you to take your emotional support dog on your lap.